Econo Tree Service provides tree care to customers in Burlingame, California. As Burlingame is just a twenty minute drive from our business address in Redwood City, California, it is a simple trip to service this and other surrounding communities in our region.
Call Econo Tree Service For Your Free Estimate:
(650) 367-4900
Our Service in Burlingame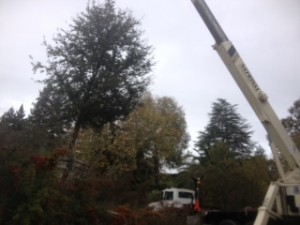 Burlingame has a total of 26 different neighborhoods that join with the next closest community of Hillsborough. Whether you live in Bayfront, Brewer, Burlingame Gardens or Oak Grove Manor, we are available to provide you with the professional tree care service you expect from a Certified Arborist.
We are proud to service Burlingame simply because it is a community that loves the urban forest. In fact, the Burlingame Historical Society worked long and hard to have the Howard-Ralston Eucalyptus Tree Rows there added to the National Registry of Historic Places in 2012.
There are two main reasons to remove a tree from a location in your yard. It may be unhealthy and a risk to nearby trees or is may be blocking a view – or no longer fit in with your property cosmetics.
Many municipalities require permits to remove a tree from a private property. The Certified Arborists at Econo Tree Service can take care of all the details – call or e-mail us today for a free estimate on our tree removal programs.
An important tree care activity that assists a healthy tree with growth is pruning. However, as easy as it may look to the average homeowner, there is a right and wrong time of year to take on this project.
Call Econo Tree Service For Your Free Estimate:
(650) 200-2495
Our Certified Arborists can closely examine trees in your yard to determine the correct time in their growth cycle to prune. Pruning at the correct time results in less stress to a tree.
One of the many specialty tools we use in tree care is a stump grinder. Typically this machine is required when a stump is in the way of a project in your yard, such as a driveway or garden.
The stump grinder operator moves the spinning blade of the machine across the top of the stump grinding it down with each pass. Eventually the stump is shaved to below ground level.
Stump grinding produces wood chips which can be reused elsewhere in your yard or garden. For a free estimate on our stump grinding service, call or e-mail us at Econo Tree Service today.
Tree health care involves examination and diagnosis. This essentially makes our Certified Arborists tree doctors.
We can learn a lot about the health of a tree through this practice and can provide suggestions on remedying issues. Contact Econo Tree Service today by phone or e-mail to learn more about this valuable service.
Why Econo Tree Service?
Econo Tree Service has been in business for 25 years and was established in Redwood City, California. Our customer coverage area ranges from Millbrae to Santa Clara – the entire Peninsula including Burlingame.
We look forward to servicing any of your tree care needs and do much more than we have listed here. To find out more about our service, and for your free estimate, contact us today at Econo Tree Service by phone or e-mail.