Econo Tree Service provides expert tree care services to Los Altos Hills, California. As the community of Los Altos Hills is just 22-minutes away from Redwood City, our base of operations, it is an easy commute for us to reach our customers.
Call Econo Tree Service For Your Free Estimate:
(650) 367-4900
Our Service in Los Altos Hills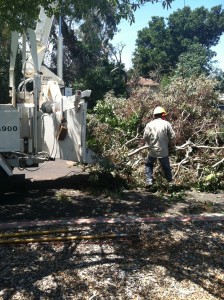 The preservation of the urban forest is one of our main concerns and has become the foundation our business has been built upon. Part of preserving the urban forest includes providing opportunities to share and enjoy it.
The Town of Los Altos Hills has created a unique way to enjoy the urban forest with their Pathway System. It is an 85-mile network of trails and off-road paths that interconnect with neighborhoods and sidewalks elsewhere in and around the community.
As much as we attempt to protect the urban forest, sometimes it means removing a tree in order to save surrounding trees. This can be the result of a disease or other serious issue that has created a hazard of some kind.
The Certified Arborists at Econo Tree Service will closely examine your trees and if removal is the remedy selected, will take you though each step of the process. For a free estimate for this service, call or e-mail us today.
A valuable tool used to enhance tree growth is pruning. A simple way to look at it is to compare it to receiving a regular haircut which removes long, unwanted hair and keeps you looking neat and tidy.
Call Econo Tree Service For Your Free Estimate:
(650) 367-4900
That's essentially what pruning does for a tree but there is a right and wrong time to carry out this procedure. The Certified Arborists at Econo Tree Service will determine the proper time in the tree growth cycle before performing any trimming activity.
Stump grinding is fast and produces an amazing by-product. When a stump is ground down the blades create wood chips that can be recycled into your yard or garden.
The stump grinder is the best way to remove an old stump from becoming a hazard or obstacle on your property. For a free estimate on our stump grinding service call or e-mail us today at Econo Tree Service.
Another of the many services we provide our customers in and around Redwood City, California is tree health care assessments. This is where we will visit your property and examine your trees.
What we are looking for is various issues that may result in harming the health of your trees and can range for soil conditions to a disease that may disturb growth patterns. Our Certified Arborists will also suggest possible remedies with you if they find anything of concern.
Why Econo Tree Service?
Econo Tree Service was established over 25 years ago in Redwood City, California.
For you free estimate on any of these services – and the ones we haven't listed here – just contact us today at Econo Tree Service. We can be reached by telephone or e-mail and look forward to helping you with your tree care needs.