Econo Tree Service services residents in Menlo Park, California, as part of our mission of providing professional tree care services to the entire surrounding area. In fact, Menlo Park is a quick 12-minute hop, skip and a jump from our office location.
Call Econo Tree Service For Your Free Estimate:
(650) 367-4900
Our Service in Menlo Park
Menlo Park is another local community that is concerned about protecting the urban forest – one of our business practices. As a result, they have developed a details document on Tree Protection Specifications which we adhere to when working in that community.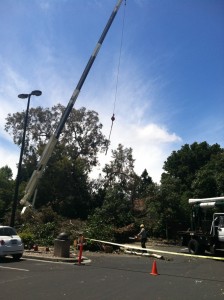 As part of the Tree Protection program in place in Menlo Park, we try to avoid removing trees from a property but there are times when it is the only remedy. Our Certified Arborists will assist you with the Permit requirements if they are requested.
Tree removal can result from the health of one tree that has a disease or pest infestation that may be a risk to other trees. Any tree that is considered a hazard is a candidate for removal if no other remedy is available.
Another form of tree health care comes from pruning and trimming. There are certain times in a tree growth cycle when this causes less stress and is actually good for promoting tree growth.
Call Econo Tree Service For Your Free Estimate:
(650) 367-4900
Our Certified Arborists can identify the right time for a pruning program for trees on your property. For a free estimate on this service call or e-mail us today at Econo Tree Service.
The stump grinder is a machine that turns even the toughest, meanest stump into a pile of wood chips. The best part of that is the stump is no more and there are a lot of wood chips you can use elsewhere on your property.
The stump grinder is a blade system that is moved back and forth over the top of the stump reducing it in size with each pass. It takes a special skill to execute, but stumps don't stand a chance when we wheel one nearby.
A healthy tree is a beautiful tree and in order to keep your trees strong and healthy they need a regular check up. The Certified Arborists at Econo Tree Service can examine your trees and tell you if they have health problems.
These problems can be the result of infestations, disease or pest, the environment or improper care. For your free estimate on our tree health care service, call or e-mail us at Econo Tree Service today.
Why Econo Tree Service?
Econo Tree Service was established over 25 years ago in Redwood City, California. We service customers in our home town as well as throughout the Peninsula from Millbrae to Santa Clara including Menlo Park.
For your free estimate on any of the services we provide all you have to do is get a hold of us. We'd love to hear from you at Econo Tree Service – by either phone or e-mail.